SEO Consultant Get in Higer Ranks
SEO is considered as the brightest future for online business. Our experienced SEO consultant audit your website and guide for successful implementation of best Search Engine practices can change the fortune of a company and deliver desired results.
The main objective of getting professional consultancy is to improve ranking on search engines Google, Yahoo, and Bing. The role of an SEO Consultant is becoming important in current times because all leading social networking sites such as Facebook, Twitter and Google Plus are producing great results.
SEO Consultant is effective in gaining traffic to the website, in generating quality leads and in the improvement of conversion rate. Consultant can assist an online business to boost sales and improve return on investment (ROI). We can allows a brand to get maximum exposure on multiple online and social media platforms, for the expansion of the client's business.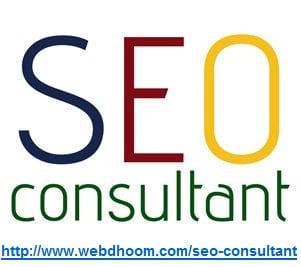 Our comprised SEO Consultant have a thorough knowledge of the clients business and business objectives to succeed in an online marketing campaign. In order to achieve a high rank on the pedestal of different web browsers, an expert should have a thorough knowledge of both on the page and off page techniques. An experienced Search Engine Optimization consultant is well versed with the algorithm updates of search engines and the latest trends in the market and can optimize your web page for improved visibility.
SEO Expert consultant is necessary for climbing the ladder of search engines. Your website must be optimized with search engine algorithms in order to figure on the first page of Search Engine Results Page (SERP).
Characteristics of a Good SEO Consultant
An experienced should be willing to learn about the business of the clients.
He should be well versed in different fields of search engines planning and must possess knowledge of business goals, marketing strategies, demographics of the target group, creative considerations, media mix and flight dates, message, success metrics and methods of measurement.
SEO Consultant should Monitor the campaign and periodic reports should be maintained by him.
Regular communication is the key to effective SEO consulting.
SEO consulting include website on-Page Analysis
On page analysis for any website optimizes each web page with content and relevant keywords for high search engine ranking. Internal backlinks and inclusion of home page keyword in the website's domain will bring your site in the good books of search engines.
Website On page Analysis – General Factors
Include new content at regular intervals and update old content.
Use texts at different places (avoid the use of content or link in graphics).
Never use Flash or frames.
Outbound links to reputed and trustworthy domains. It is advisable the check the links at regular intervals.
Our SEO advice is – Don't stuff your content with keywords. Take the help of keyword density tool.
ON-PAGE SEO Consultancy Factors
Use the keyword of each web page as its URL.
Use the keyword in the title tag. Doing this will put the keyword in the title bar and search results.
Try to use the keyword in heading tags (H1 –H6).
The keyword should be used in the first sentence of the content.
Keyword density should be less than 3%.
Use an image with the keyword as alt text.
Place keywords in Meta tags
Use Keywords as anchor text for internal links.
Highlight instances of keywords. You can make it bold or bigger.
Include other keywords in the content even if you are not targeting them.
A Well Structured Website will Enjoy Better Page Ranking
In order to increase the number of online visitors to your website, your website must be optimized for search engine rankings. The first step for proper optimization of your website is HTML formatting. The HTML structure of your website holds keyword information and controls the look of your website. Meta tags allow you to use relevant keywords that assist search engines in the indexing of your site. Meta tags can be used effectively by the use of different keywords on each web page in the meta tags section. Make sure that the keywords are relevant to the page content.
Besides Meta tags, use of HTML in the contents of each web page can also lift your search engine rankings. It is advisable to use keywords as links to other pages of your website. Regularly check all your links to ensure that they are working properly. An error-free HTML page will rank higher, then a page with several broken links.
Organic search results are the best way to drive traffic to your website. Use of unique, informative and interesting content with the use of relevant keywords and proper use of meta tags and headlines tag will ensure a high search engine ranking.
Link building Audit will Ensure a High Position on Google Search Results
Link building plays a vital role in improving the visibility and rank of a website. Expert specialists create powerful links for the optimization of web pages. Links are of 2 types – incoming and outgoing. Search engines consider incoming links to analyze the popularity and rank of a website. Links from an authoritative domain or highly trusted web pages can enhance the credibility of a site.
Government websites, websites of academic institutions and Wikipedia are considered authoritative domains. Links created on social bookmarking websites are considered as incoming links by search engines for ranking purposes. Links from websites with the same area of interests can also boost your web page rank. Further, if your site receives several links in the form of anchor texts using the same keywords which your site has, then that's a good chance of high rank. Outgoing links in the form of anchor texts with relevant keywords can ensure a high page rank on Google search results.
Social Media Audit Analyzes Vital Data on Social Media Platforms
A social media audit is a process of analyzing raw data to determine whether social media program is working or optimized, according to the original objective of the program. This raw data consists of several variables such as reach (followers and fans), frequency (sticking to publishing schedules), engagement (likes, shares, retweets, comments, conversations), influence (page rank, blog score, twitter ratios and Klout score) and sentiment (positive, negative and neutral reviews of brand).
An important data source for a social media audit is Google analytics. It can tell about the demographics of the visitors, the time of their visit to your website, their entrance, and exit points, the time they spent on each web page, the devices which they used to surf the site and the bounce rate of your website. Other tools to evaluate social media efforts are Facebook insights, YouTube insights, Twitter grader, website grader and Twitalyzer. One has to assimilate and aggregate data from all these tools in order to draw conclusions.
Role of SEO and SMO in page rank and visibility
Both are two sides of the same coin. While the former improves your rank on the list of leading search engines with on-page optimization techniques, the latter improves the visibility and image of your brand on social media platforms. You require the help of both these services to stay ahead in the digital race.
Any business which wants to expand will require the assistance of both these services for attracting more traffic to their site, for better and qualified leads. These services add more customers to your business, increase sales conversion rate and improve your ROI.